To become a Language Assistant in Spain with Meddeas, non-European citizens in our 9-month programs need to a get a long-term Spain student visa (valid for over 180 days).  Applying and getting a student visa for Spain (or another country) can be a daunting and technically difficult process.
"When I first began the process, I was unsure where to begin and every source of information seemed to tell me something different. I was told by many that submitting my Spain student visa application would be a stressful experience. It doesn't have to be this way! I received a lot of help from many people throughout my application process, and it made all the difference," says Margaret F., Meddeas Language Assistant in a school in Dos Hermanas, Sevilla.
In this post, you will find everything you need to know about the Spain Student Visa Application Process. And this from the point of view of 4 Language Assistants coming from different countries: several states in the US, New Zealand, Australia, and South Africa.
The Spain Student Visa Application Process Varies Depending on Countries
Language Assistants from different countries, such as the US, New Zealand, Australia, or South Africa, have outlined some experiences, given advice, and compiled a list of all the materials needed for the Spain student visa application process. The information given reflects individual cases, not general processes, thus it shouldn't be taken for granted. It is important to always contact the consulate and/or check out its official website. 
Spain Visa for US citizens
To begin applying for a visa for Spain from US., you first need to find out which consulate caters to your residential area. Once you've located your Consulate, you'll generally need to make an appointment. This may be through email, calling, or an online sign-up process. You can refer to the Consulate's website in order to find the documents you'll need.
How to Get a Visa for Spain in the Consulate of New York, by Margaret F.
One way to make sure your visa is processed in a timely manner is to make sure you include all the materials that your consulate requires. What are the Spain student visa requirements? The following list details what I turned in to the consulate in New York, and was made using the list on their site and those of a few other consulates, just in case.
1) A Cover Letter (OPTIONAL)
I chose to include in my application packet a short letter (one copy in English, one in Spanish) explaining some extenuating circumstances. This is optional. I did, however, use the letter as a way of easily slipping in my email address and telephone number, which the consulate requires for correspondence purposes. Including a cover letter can also allow you to clarify anything about your application that may appear unusual, or to make any special requests in a professional and polite manner.
2) A Filled-Out Spain Visa Application Form
Printed from the consulate website.
3) Your Original Passport
Because you are required to turn in your real passport to the consulate while the visa is being processed, you need to plan ahead.
4) Quality Passport Photographs
These are easily acquired at any airport, at various convenience stores, Target, etc. The consulate only needs one photo, but make sure you get extra. I got four photos, two of which I gave to the consulate (just in case) and two others that I took to Spain (you will need them again for the TIE appointment to get your foreigner card once you arrive).
5) Letter from Your Program
Meddeas will send it to you.
6) Letter Confirming Insurance Coverage
Check the requirements.
7) FBI Background Check
I applied and was accepted into Meddeas in late April. Therefore, it was necessary for me to use an expediting service for my FBI background check. This cost me about $200 total, which is not ideal. It is possible to request a background check straight through the FBI for much less. However, this is a process that may include delays and that you must begin about two months in advance of your Spain student visa appointment.
So, again, planning ahead is essential. Some consulates give you the choice of using a state or federal background check, but I would recommend just the federal check. State background checks do not work for all consulates. Bear in mind that Meddeas requires the FBI (national background check). Apply to get 2 copies in case the consulate keeps one. The one for the consulate has to be apostilled and translated, the copy for Meddeas doesn't.
8) Photocopy of State ID, Driver's License, Student ID, or other Proof of Residency
As a non-New York resident applying at the New York consulate, I had to use my university student ID and a printed enrollment certificate from my university's Registrar office to prove my residency. For any ID you choose, make sure you photocopy both sides of the card and make sure you print a high-quality scan.
9) Medical Form
The medical form is a letter from your doctor stating that you are in good health to travel and live abroad. The letter can include any of the health information your doctor deems necessary.
It must also include the following words:
The student has been examined and found in good physical and mental health to travel to study abroad and is free of contagious diseases or any other illnesses which could lead to public health repercussions according to the International Sanitary Regulations-2005 of the World Health Organization.
I am a registered resident of Northern California and my medical insurance only directly covers me when I am there. When applying for my visa, I was in New York City attending university. If you, for whatever reason, need to visit a walk-in clinic, call ahead. Some walk-in places will not be willing or able to give you the check and letter you need. You may be able to get your physical check done in the health office at your school, but visit or call the consulate first to be sure that they will accept a university health center's letter.
10) Pre-Paid Envelope for Passport and Visa
I included this because I needed the visa mailed back to me from New York to California. I got the envelope weighed and paid for at my local post office. If it's not urgent or impossible, we recommend to collect it as it's not uncommon to get it lost in the mail.
11) Notarized Authorization Letter
From your parents stating their approval of the application for the visa if you are under 18 years old.
12) Money Order
A compulsory payment for the visa processing charges. It was about $180 for me. To get this, go to the post office a day or so before your appointment. The consulate will provide payment details (who the order should be addressed to) on their site.
After Getting the Visa for Spain from the US
For all who are lucky enough to apply there, the New York consulate is awesome. It doesn't require to make an appointment. Moreover, I turned in all my paperwork to the consulate on May 22nd and got my visa in the mail in California on June 6th. Timing depends on the consulate assigned to your region, so check in advance and plan accordingly.
When you receive your passport back (in person or through the mail), you are going to find your temporary visa affixed to one of the pages. Your Spain student visa will be a long-stay visa, called an estancia visa, and it will state that it is valid for only 90 days after you arrive in Spain. This is correct. Don't panic when you receive a visa that expires part-way through your program duration. As long as your visa says estancia, is a visa type-D, and is valid for 90 days, your application was processed correctly.
The number at the bottom of your visa, called the NIE number, will become critical when you apply for your official foreigner card, the TIE, in Spain (if you do not have an NIE number on your visa, contact Meddeas). You must apply for this TIE card after your arrival in Spain but before your 90-day visa expires. The TIE application is another story, but something I am happy to help with as well. If you have any questions, comment below!
How to Get a Visa for Spain in the Consulate of Chicago, by Tessa G.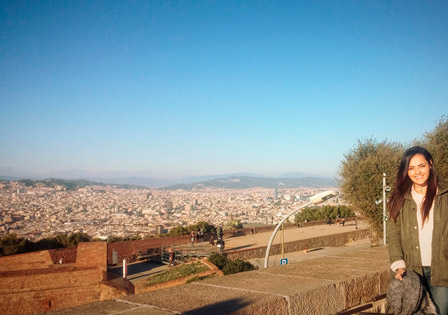 My name is Tessa! I am from Chicago, Illinois, and currently doing the Graduate Program with Meddeas in a school in Spain. As a non-EU citizen traveling to Spain and staying for over 90 days, you need to obtain a U.S. passport and student visa to teach in Spain. The golden rule when applying for these types of documents and preparing for traveling abroad in general, especially for an extended amount of time, is time management.
Here I want to highlight the steps in the visa process needed to teach in Spain and the Spain visa requirements for US citizens. These are the ones I consider most time sensitive and I've experienced in Chicago's consulate.
Step 1: U.S. Passport
If you do not have a U.S. passport book this is the first thing you need to apply for as it can take around 4-6 weeks.
Step 2: Criminal History/Background Check
You need to obtain a Federal Issued Criminal History Background report. It cannot be older than 3 months from the application date. Check your state police's website and see if they have a list of approved vendors where you can call and ask for the info.
This has probably been one of the most stressful parts of any student visa I have applied for. The reason is that background checks can take time to process, vendor locations and prices vary, and many people aren't exactly sure on the process for visas. So, don't expect them to be very knowledgeable on the process.
After you receive your check you need to send it to Washington to have it legalized with the Apostille of the Hague Convention by the US Department of State in Washington DC, which took about 2 weeks in my case. So yeah, this takes a whileeeeeee….
Step 3: Spain Visa Appointment
My experience was with the Spanish consulate located in Chicago. They only accept appointments made online and you can make them in far in advance as 3 months prior to departure. The visa processing time is 4 weeks, and they mean four weeks! They offer no expedited service. Thus, calculate 10 extra days if you are not picking it up in person and having it mailed to you instead.
Other Documents
The acceptance letter and evidence of funds are provided by Meddeas and they mailed these to my home in plenty of enough time in advance. Other documents needed for the visa, like the photo, health insurance, medical certificate, visa form, etc. can be done at your pace.
Meddeas was very supportive throughout this entire process and will often send you information packets and emails, so read through them. The Meddeas Facebook group (private) is also an incredibly helpful resource where you can exchange questions and experience with other assistants that are on the same journey as you. If any other doubts arise email the Meddeas team, they are always willing to help and answer promptly.
Quick Tips for US Citizens Getting a Student Visa for Spain, by Mariah G.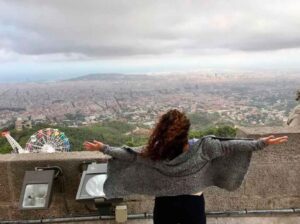 Mariah G. is an English Language Assistant in Barcelona, Spain. She loves to write, travel, and meet new people. Her blog is a compilation of her experiences abroad and her first time teaching English as a foreign language. Check out the blog for tips and anecdotes about working and living away from home. Here are her tips:
Remember that not all consulates are the same
Each consulate has its own requirements. Do a quick Google search to figure out which consulate you should go to and make sure you quadruple-check their list of requirements.
Print multiple copies of your necessary documents
Organize them with labels and binder clips. I made labels out of post its and it saved me the panic of searching for documents when I was at my visa appointment.
Give yourself time
Don't book your appointment at the last minute. Remember, you need to wait at least a month to get your Spain student visa after you hand in the application. This means that you have to surrender your passport and put all of your travel plans on hold.
I booked my appointment for two months before my departure and it gave me enough time to get my documents sorted and to receive my visa before my trip.
Don't panic
As hard as this may be, remember that many people apply for visas every day. If they can do it, you can too. 
Take in the experience with open arms
Take the good, the bad, and the ugly, and understand that the visa process helps you grow. You learn how to be responsible, timely, and diligent. You will get through it!
Spain Visa for South African Citizens, by Carrie F.
I was accepted into the program and was delighted to be placed in the city of Bilbao. Meddeas was extremely helpful in guiding the visa application process and very promptly sent my acceptance letter via postal mail to South Africa, Cape Town. I hope that this information will help future Language Assistants from South Africa applying for their visas to Spain. It was a fairly easy process overall, however took quite some time as there were a lot of courier deliveries involved.
I applied for my Spain Student Visa at the Spanish consulate in Cape Town (the address is 37 Shortmarket Street, Cape Town). Thankfully, I was not required to make an appointment beforehand. It was a walk-in application process. The consulate is open between 9:00 – 14:00 on weekdays.
Preparing the Documents Takes Time
Once your application is submitted, it will take approximately 10 days to be processed before you may collect your visa. I received an email notifying me that it was ready. If you have not heard anything within that period, I would send an email to the consulate to follow up. They are generally quite helpful over email. This application cost me R871 (ZAR – South African Rand) at the time.
Although the process for the visa application only took 10 days, I highly recommend you do not leave this to the last minute. It was not the visa that took the time. It was the preparation of the documents required that took the most time. I will go into further detail on these Spain student visa requirements below.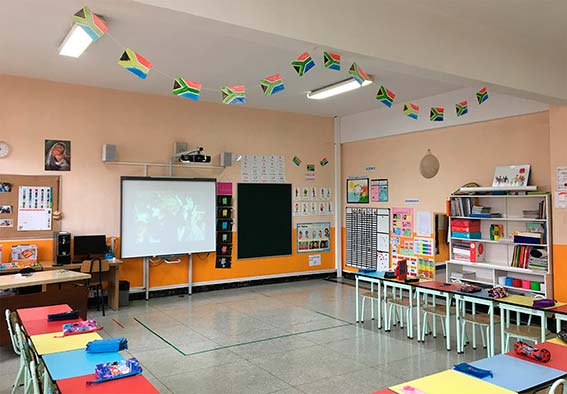 Documents Required for a Visa in Cape Town's Consulate
Acceptance letter: You are required to have the original acceptance letter (which Meddeas sends at the time of confirming you into the program) when you submit your application at the consulate. Meddeas had sent this via normal postage service.
Criminal Clearance Certificate
I applied for this at a police station in Cape Town, and it cost me R100. Then, I had to send this document with my fingerprints to Pretoria (the Pretoria address is given to you by the police station). I sent mine via courier service to ensure it got to the correct address on time and I did not want to risk anything with the postal service. This is more expensive, but saves you time and is stress-free.
When the certificate is ready in Pretoria, they will contact you and you need to arrange for collection. I again made use of a courier service to collect this. This certificate is valid for 6 months, so ensure you do not apply too early, as it still needs to be valid when you enter Spain.
Hague Apostille Stamp
I then had to have this certificate apostilled with an official Hague Apostille stamp. This is also done in Pretoria – I, therefore, had to send my original document to DIRCO (Department of International Relations and Cooperation) with a cover letter. Instructions on how to apply for this apostille stamp should be confirmed on their website or via email. There is a specific cover letter they require stating exactly what the apostle stamp is for, who will be collecting the document etc. There was no cost to have it apostilled, only a cost to courier it to Pretoria.
A medical certificate
Stating I had no illnesses that may be a threat to Spain was also required and I had to follow the same procedures as above (getting it approved by the SA government with an official Hague Apostille stamp). I got a medical certificate from my local doctor who signed and stated that I had no illnesses posing a threat. I had to get this approved by the HPCSA (Health Professions Council of South Africa) first, before sending it to DIRCO. The HPCSA is also based in Pretoria, so I had to use a courier to send it to the HPCSA. This HPCSA stamp/approval cost me about R400.00. When the certificate was ready (it took about a week), I had a courier collect it for me.
Insurance
Ensure that you also have insurance for the time that you will be in Spain – this is necessary to submit with your visa application, as well as a copy of your flight ticket.
No Financial Means
You do not need to show proof of financial means via bank statements, as your acceptance letter will state that you will be earning a monthly income and will state how much. This is sufficient for them to accept that you are financially able to be in Spain.
Apostilled Documents
I then had to send the documents (the medical certificate and criminal clearance certificate) to DIRCO to be apostilled. This process took some time (about a month), due to it being required to be sent across the country to more than one location and waiting for it to be returned.
Spanish Translation
Once this was returned to me in Cape Town, I had to have these documents translated into Spanish by an official translator thereafter. The Spanish consulate will email you with a list of reputable contacts. I highly recommend getting quotes from all of the contacts, as I found some contacts were highly overpriced compared to others. The contact I used was a private business owner who worked from home, and she was the cheapest out of all of the contacts referred to by the consulate.
Once your visa is ready, it can be collected at the consulate. You can have it delivered to you at a fee, but it is quicker to go and collect it yourself.
Tips to Get the Visa in South Africa
As we are required to have original criminal certificates and medical letters when we land in Spain, you will need to ask the consulate to give your original documents back to you. They will only do so if you have copies to replace the originals with. Ensure you have copies of everything before you submit your application. You will need to request these originals – they do not automatically return everything to you. When you collect your visa, you only receive your passport back from the consulate.
The visa is valid for 3 months, so you will need to apply for your residence card as soon as you are in your designated city. The residence card will be valid for the period stated in your acceptance letter. You will have to leave Europe after this card expires.
As South Africans are required to have visas to travel within Europe, the benefit of having this residence card is that you can travel within Europe freely, as you are considered as a Spanish resident. Huge plus for us!
Spain Visa for Australian Citizens, by Alex M.
I was studying part-time, one year from finishing my degree, when a Spanish friend of mine told me about this program. Being Australian, I thought the new school year meant January or February of 2017. No, she later told me, next year meant September of that year. I was shocked but I started to think about the possibility of going to Spain in the next few months. I looked online at applying for a work visa, but I later realized that it is virtually impossible for a non-EU citizen to work in Spain.
As soon as I was accepted, the documents from Meddeas made it very easy to understand how to move forward. I began the process of applying for a student visa from the Spanish consulate.
This would prove to be one of the most frustrating processes I've ever been through. At that time I was unfamiliar with the Spanish way of doing things. I didn't realize that it would be very normal that the consulate would never pick up the phone to answer your questions. They would not answer your questions even if you went to the consulate in person, and they would close every day at 2 p.m. and would not open again until the next day.
Email the Spanish Consulate in Sydney
Firstly I had to find the Spain student visa requirements and I did this by emailing the Spanish consulate in Sydney. They will not give you any information in any other way. They attach a document with the information and a form to fill out in English called the Application for National Visa. You need to book an appointment with them by email as soon as you can because they can be over a month away depending on the time of year. You will also need the following documents and things.
Materials needed
Your filled out Spain visa application form.
One passport size photograph with a light background glued to your application form.
Your passport which should not expire in the time you are overseas.
Proof of funds (which in our case the official document from Meddeas, stamped, saying our period of work experience and how much we will be earning, which should equal more than 700 AUD per month).
Your return flight from Spain to Australia. You must book this before you leave. In my case, no flights were available over a year in advance so I had to move my flight later.
Travel insurance for the whole duration of your stay in Spain. This has to cover medical costs and repatriation associated with an accident or sudden illness.
A paper signed or stamped by your local GP saying the following [insert name] does not have any of the diseases that could harm the public health according to THE INTERNATIONAL HEALTH REGULATIONS (2005) and is fit to travel. It is best to go to your regular doctor for this and explain that this is a formality for the visa. They may wish to give you a checkup.
A National Police Certificate covering all states of Australia and if you have lived overseas they will also require a police clearance check from those countries where the applicant has lived in the past 5 years. This will involve taking fingerprints at your local police station and these will be forwarded to the National Police. It is important to do this as soon as possible because it can take over a month to receive the paper. You have to apply for this online and it costs 99 AUD.
And also…
With all these, you must also bring the non-refundable visa application fee of 91.20 AUD in cash. It must be exactly as the consulate cannot give you any change. This fee may change over time, so check this with the information the consulate has sent you.
As I was very short of time, I had my appointment a month before I was to leave. It is better to give it two months. I was lucky that my passport with my visa inside was ready to pick up in a week. In busier periods it can take longer than this.
Spain Visa for New Zealand citizens, by Rebecca K.
I'm Rebecca from New Zealand and I am currently assigned in Vitoria-Gasteiz, the capital of the Basque country. I teach all of Primary school grades at a semi-private Catholic school.
Before coming, I went to apply for my visa in the middle of June. I didn't make an appointment as they said that I could come with my application to the Spanish embassy in Wellington from Monday to Friday from 10 am to 1 pm. The appointment for the visa can only be done at the Embassy in Wellington. I contacted them through email as this was the only contact information I could find and they were pretty good at replying this way. The fee was $88.20 and needs to be paid in cash. I needed:
A police check from NZ and countries that I lived in for more than about 6 months.
I did not need to get an extra stamp on the police form that I was sent from the Ministry of Justice
Take a couple of passport size pictures.
I also needed to take my passport, details of accommodation, proof of acceptance into a university, proof of funds, and insurance.
I needed a health check to prove that you don't have any health problems and this includes blood tests and a chest x-ray
Also, a pre-paid and addressed envelope for them to send the passport back. I received my passport and visa about two and a half weeks later.
The embassy was pretty easy to find, it's in a building in the city but if you live far away from Wellington that would make it more difficult.