Applying for anything is a frightening and daunting process. There are forms to fill out, interviews to do, and a million other things that you might need to complete to be successful. Many of these application processes can be difficult and complicated to do. Indeed, I have stopped filling in applications because it just got too confusing; I couldn't do it anymore. However, applying to be a Meddeas' Language Assistant was demanding, but clear, and they guided me through the selection process. I wish there were people who could have talked me through the process and given me some advice regarding what to say and what to do. So here I am to talk to you about what to expect when you are applying to teach with Meddeas here in Spain.
The Selection Process with Meddeas: Requirements, Tips, and Steps
What are the Requirements If You Want to Apply?
So, what do you need to apply for a placement with Meddeas? Do you need to speak fluent Spanish? Do you need to have an education degree? Or do you need to have teaching experience? The answer to all of these questions is… NO! Although there are specific programs for people with a teaching background, Meddeas programs are open to anyone with any degree and you do not need to be a Spanish speaker, or have teaching experience. 
The most important skills that you need to have are a can-do attitude and the willingness to learn and adapt to your new tasks and your new country. Oh, and you must be a native-level English, French, or German speaker. You don't even need to have a TEFL or CELTA certificate, as Meddeas provides you with the fantastic opportunity to study and teach at the same time.
I have met people from all different walks of life here in Spain and none of us have the same backstory. Some come from a teaching background and others come from a science one. Some studied English and others studied Translation or Linguistics. The fact that we are all different with different skills and talents is what makes this program so great. At my school, there are four of us and every single one has a different set of talents and skills, meaning that we all have something different to offer.
Some Hints and Tips to Overcome the Selection Process with Meddeas
When applying for Meddeas, do not be afraid to show off your individuality and uniqueness. Being yourself is what will make you succeed in this process and this placement. Be proud of your achievements and your experiences: They are what make you, you. Anything can enhance your application and make you stand out.
Flexibility is key when applying. If you just want to teach to a certain age group, in a certain city, with a certain number of hours, and with every Friday off, it is not the best way to succeed. Being open to new places, experiences, and opportunities will make the chances of getting a placement much more realistic. I didn't know that I necessarily wanted to be teaching in Infantil (0-5 year-olds) in a town outside of Barcelona. However, that's what I got and I loved every single moment. You should also be flexible about what your role involves in the school. I am involved in around 14 hours of art activities every week, despite not being artistically inclined, but I am learning as I go.
What are the Steps If You Apply?
The application process is not so difficult. Just follow the steps and consider the following things while applying:
Step One: Filling Out the online Application Form
This step is an important one, as this is the time when you will tell Meddeas about yourself, your experiences, and your preferences for the program.  Along with sending your professional resume or CV, you will need to fill out an online Application Form.
Things to think about when filling out the application form:
ACCOMMODATION
There are two options regarding the accommodation: a host family or independent housing.
You should think about if you would prefer to live with a host family or find your own living arrangements. Meddeas will not provide housing nor help you with finding your own housing, but they will give you some useful information so you can find it yourself.
If you would like to live with a host family to fully immerse yourself in the Spanish lifestyle, check out the Host Family Conditions.
All applicants will be teaching between 20 to 24 hours a week, but it varies depending on the accommodation type (among others).
CITY SIZE
Would you feel more comfortable living in a big city, in a smaller city, or in a town? This is your chance to express how you want to experience Spain. There are both benefits and drawbacks to each so choose wisely. Meddeas says in the FAQs: "we try our best to find a well-suited placement – taking into consideration the location only when possible. Remember that our allocation process is profile-based and not location-based (that's why specific location requests are never accepted)".
AGE LEVEL OF THE STUDENTS
Would you prefer to teach preschool, primary, middle school, or high school students? You will have the opportunity to select your preferences. If you have experience with one or more age groups and you would like to be with them, choose them here.
PREVIOUS EXPERIENCE
This is the part of the application which is the most important.  This allows the Meddeas team to know exactly what your experiences are working with children and will help them to place you into the correct placement.  Talk about ANY kind of experience you have working with children and/or teaching, anywhere from working as your neighbor's babysitter for 10 years to volunteering as a soccer coach, to studying primary education and completing your student teaching.  Be as detailed as possible, specifically talking about the age groups you worked with and for how long!
ADDITIONAL INFORMATION RELEVANT TO THE SELECTION PROCESS
This is the part where you can share anything else you'd like with Meddeas.  You can mention your experiences living abroad previously, specifically if you have studied abroad or lived in Spain before.  And you can talk about any job experiences or skills that would be beneficial for this work experience.
Step Two: The Interviews
Congratulations! The Meddeas team has seen your application and profile and wants you as a potential candidate for the program. There are two online interviews in the selection process with Meddeas.
You should dress business casual for the interviews. The online interviews could be early in the morning because they will most likely be done in Spanish working hours and time zone, so be prepared for this. To prepare for the interview, simply review the FAQs and Meddeas' website to make sure you fully understand the program, its requirements, and its features. Be prepared to talk about your experiences with children and/or teaching, and some of the skills you've gained along the way.
In the second interview, you will be given the opportunity to resolve any doubts you may have; as well as make sure you fully understand the responsibilities of the programs. Also, one thing you may be asked to do is an activity. But don't sweat it: you don't need to prepare anything for it.
Step Three: I've Been Accepted! What Comes Next?
You passed the selection process with Meddeas, making it through both interviews. Congratulations, and welcome (almost) to Spain!
If your selection process finishes before April, first you'll receive a pre-agreement acceptance letter from Meddeas, which you will need to return within a few days in order to secure your spot in the program. Depending on the time of acceptance and available schools, you'll receive your school placement about 2 weeks or so after your initial acceptance (bear in mind this process can get longer). At this point, you'll make your official decision and place a deposit for the program (which will be returned to you upon successful completion of the program). Once you make the deposit, you will officially be a part of the Meddeas family. What now?
If you aren't an EU citizen, start getting your paperwork together for your visa. You will be applying for the Student Visa. Each consulate is different, depending on where you currently reside, so make sure to consult your own consulate's website. Most require a background check, a medical clearance form, a current passport, and passport photos. Some also require you to make an appointment.
Some Last Tips Before You Start the School Year
Once you receive your school's contact information, write the tutor or coordinator an email, introducing yourself. This is a great way to start the school year off and show initiative.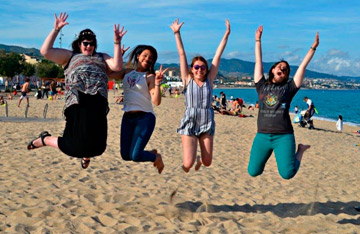 Start saving money! You will not receive your first stipend until mid-October or early November depending on your start date. Because of this, you will need to have money for the start-up costs of living in another country: flight to Spain, first and second month's rent plus deposit, grocery costs, transportation costs, extra money for fun and traveling, etc.
After all of this has been done, you'll soon be on your way to Spain, excited and ready for the best experience of your life. Once you get to Spain, let the rest happen. Meddeas will be there every step of the way and so will your other school colleagues and friends. Get ready for all of the amazing experiences and memories you are going to have after this yearlong journey, and all of the great people you will meet along the way.
If you enjoyed this post about the selection process with Meddeas, check this video to find out more about the Meddeas experience!